Chromebooks for Work
Fast, secure, shareable computers that are easy to manage.
Get stuff done with Google
Chromebooks come with leading Google products built-in, like Gmail, Search, Google Drive and Hangouts, so you can get to work right out of the box. And with the Chrome management console, admins can easily control users, devices and apps across a fleet of Chromebooks.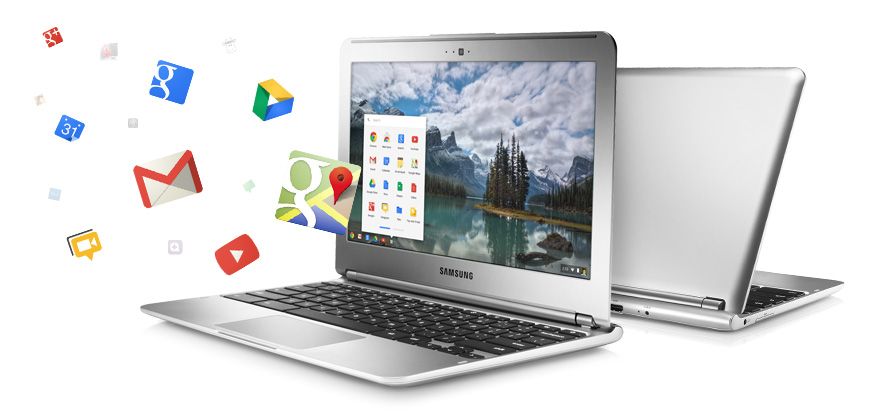 G Suite built-in
Create and share documents with Google Drive, check your Gmail, or video chat with Hangouts, and more, with built-in apps.
Go Chrome fast
Load websites in a snap with the built-in Chrome browser, the world's most popular web browser. With Chrome Instant, web pages that you frequently visit begin loading as soon as you start typing their URLs.
Works with other devices
Chromebooks sync seamlessly with your Android phone, tablet and all other devices running Chrome, so you can access your bookmarks, files and other settings everywhere.
Do everyday things, do amazing things
Use thousands of top business apps, from across the web as well as in the Chrome Web Store. Track customers, plan projects, manage inventory – you can do it all.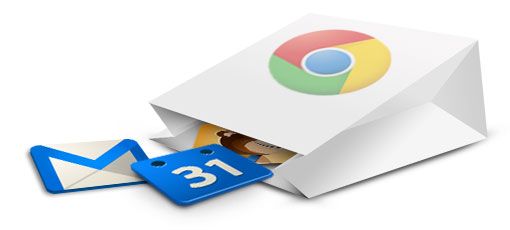 Work and collaborate
Create documents, update sales forecasts, manage inventory and plan projects with apps like Google Docs, Salesforce.com, Workday, Zoho or SlideRocket. With Chrome Remote Desktop and Citrix Receiver, you can access and run software stored on any of your other computers or servers, securely over the Internet. And admins can remotely pre-install and block apps via the management console.
Meet on-the-go
Talk face to face and connect with up to 9 people using Google+ Hangouts. You can also integrate multiple chat accounts with apps like imo or eBuddy.
Edit photos and video
Edit beautiful photos for presentations and for fun with apps like Pixlr Editor and organize them with your favorite photos site. You can also create marketing and internal videos with Stupeflix or YouTube Video Editor.
Works offline
Chromebooks offer offline apps, like Google Docs and Gmail Offline, which means you can stay productive during the rare times you are disconnected from the web.
Perfect for sharing
Share between colleagues or use Chromebooks as customer and employee kiosks.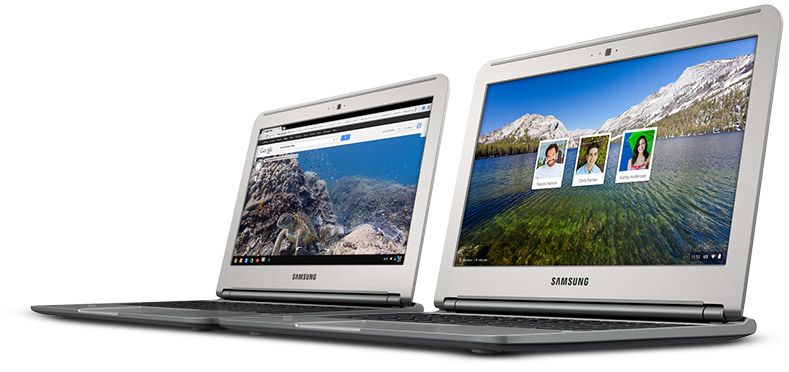 Multiple profiles, made easy
Multiple logins allow you to give users their own personalized apps, settings, and bookmarks when they log-in. In Guest Mode, users can't access any data stored on the Chromebook, and all of their browsing history is deleted when they finish their session.
Make customer & employee kiosks
With Managed Public Sessions, you can customize a Chromebook, including branding, session time-out and available apps and sites, without requiring a login. Chromebook kiosks are great for retail stores, manufacturing floors, hotel business centers and libraries.
Share securely
With security built-in, you can share your Chromebook with others without fear of common computer problems like accidental software installations, malware, unauthorized data access or altered settings.
Hassles not included
Chromebooks are designed to help you get everyday things done – faster, easier, and safer. They boot up in seconds, never slow down, are easy to manage and require no ongoing maintenance. So you can do more, and worry less.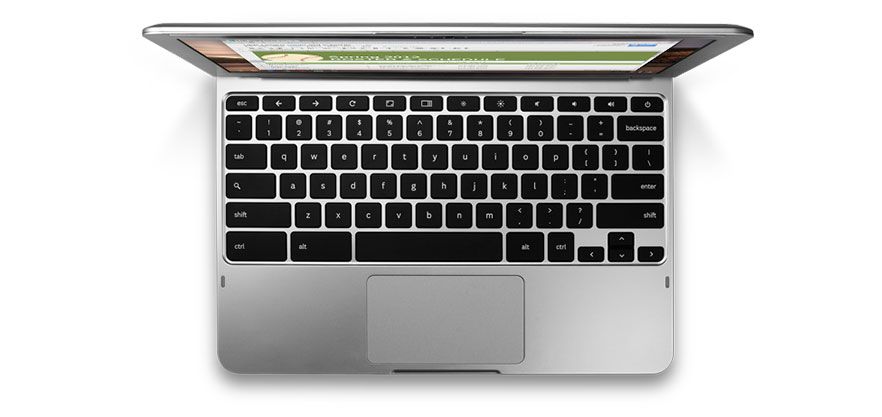 No waiting
Chromebooks boot up in under 10 seconds, and resume instantly. Unlike other computers, Chromebooks avoid the bloat of old software and don't slow down over time.
No maintenance
With the automatic updates, Chromebooks download and install security and software updates so you don't have to. And you can use the management console to control user, device and app policies across a fleet of Chromebooks.
No worry
Chromebooks have multiple layers of security to keep you safe from viruses and malware without needing any additional security software. With Google Drive, all your files are backed up online, safely and securely, even if your Chromebook accidentally takes a swim.
Manage 10s, 100s, even 1000s of Chromebooks with ease
The web-based management console makes it easy to deploy and control users, devices and apps across a fleet of Chromebooks.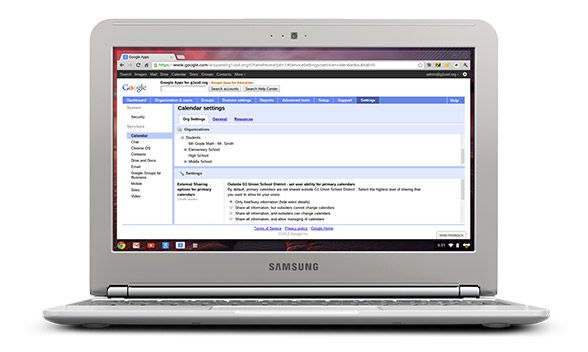 Track assets
Assign devices to users and get configuration and usage reports.
Pre-install and block apps
Blacklist, whitelist, or pre-install apps, extensions and URLs.
Create user groups
Apply policies, apps, and settings to different sets of users.
Control user access
Control who uses your Chromebooks: prevent outside users from logging in, disable Guest Mode, or designate the specific users within your domain that can use a Chromebook.
Configure network access
Set network and proxy settings to make it easy for users to get up and running and ensure they're protected by web filters and firewalls.
Customize user features
Modify user settings like bookmark and app sync across computers and show some school spirit on your devices with custom Chrome desktop themes.
Looks like a laptop, feels like a laptop…
But Chromebooks are a new type of computer designed to help you get things done faster and easier. They run Chrome OS, an operating system that gives you the best of G Suite, security built-in, easy central management and other features that make them an improvement on traditional computers.