G Suite is a set of cloud-based tools that helps you and your team collaborate and get things done from anywhere, on virtually any device
Start a free 30 days trial

Gmail
Bring the ease and reliability of Gmail to work
Get a professional email address with the same familiar interface hundreds of millions of people use every day. Business features include 30GB of storage and 24/7 support.
Business email for your domain
Build customer trust with professional email addresses. Create as many group mailing lists as your company needs, like sales@yourcompany.com.
Email on mobile devices, even without a connection
Get powerful iOS and Android apps. Across mobile and desktop, you can read and draft messages when you don't have Internet, and they'll be sent when you're back online.
Compatible with your existing interface
Gmail works great with desktop clients like Microsoft Outlook, Apple Mail and Mozilla Thunderbird. Outlook users can sync emails, events and contacts to and from G Suite.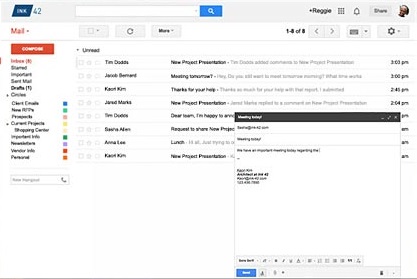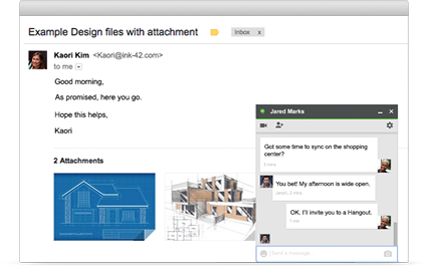 Conversations that go beyond email with chat and video
Chat with a colleague, dial a customer's phone number and host or join a video meeting straight from your inbox with Hangouts.
Easy migration from Outlook and legacy services
Migrate your email from Outlook, Exchange or Lotus easily with custom tools that help preserve your important messages.
99.9% guaranteed uptime, 0% planned downtime
Count on Google's ultra-reliable servers to keep your lights on 24/7/365. Automatic backups, spam protection and industry-leading security measures help protect your business data.

Hangouts
Meet face to face with coworkers and customers
Connect with the people that make your business run via HD video, voice or text. You can save money and time on travel, but still get all the benefits of face-to-face contact.
HD video meetings with your entire team
Host Hangouts for up to 15 people within or outside of your organization. The screen automatically focuses on whoever is speaking and intelligent muting prevents background noise.
Easy to use from anywhere
Your entire team can join the same Hangout from their desktop, laptop, tablet or phone with the same easy-to-use experience.
Integrated with calendar, so it's only one click away
When creating a meeting in Google Calendar, you can automatically add a Hangout. So when your meeting rolls around, it takes just one click to join.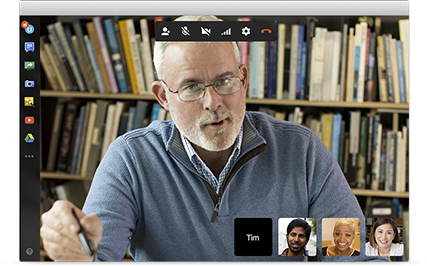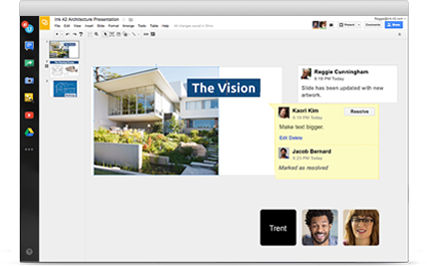 Built-in screen sharing
Review your latest slides or give a remote tutorial with easy screen sharing, then send around useful links with built-in chat.
A public platform for showcasing your brand
Hold a public Hangout On Air to demo a new product or make an announcement. Your video conference streams live in HD and is automatically saved to your YouTube channel.
Custom control for admins
Set advanced admin features like limiting access to Hangouts for external participants, turning chat history off and the ability to eject participants ensures privacy.

Calendar
Integrated online calendars designed for teams
Spend less time planning and more time doing with shareable calendars that integrate seamlessly with Gmail, Drive, Contacts, Sites and Hangouts so you always know what's next.
Smart scheduling for meetings
Schedule events quickly by checking coworkers' availability or layering their calendars in a single view. You can share calendars so people see full event details or just if you are free.
Access from your laptop, tablet or phone
View and edit your schedule from your phone or tablet. Use our optimized mobile apps or sync with your phone's built-in calendar.
Easy migration from legacy systems
Easily migrate your business calendar from Exchange, Outlook or iCal, or directly from .ics and .csv files.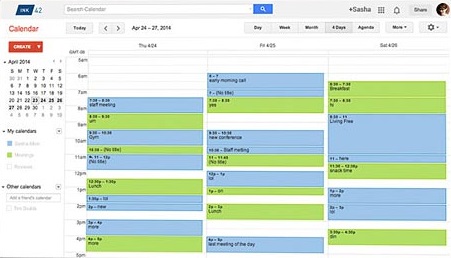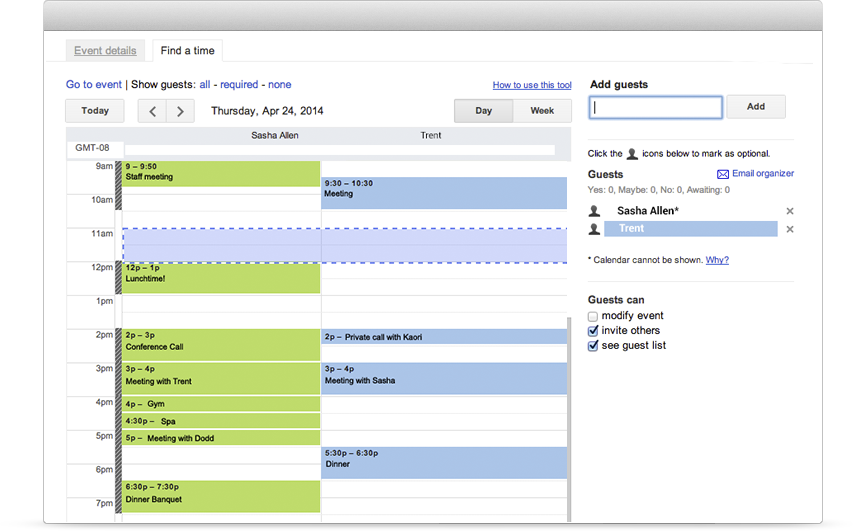 Publish calendars on the web
Share special events with customers or let people know when you're available with easy calendar publishing. Calendars can also be integrated directly into Google Sites.
See if meeting rooms or shared resources are free
Browse and reserve conference rooms, projectors or foosball tables from your calendar. It's easy to set up shared rooms or resources and add them to Calendar events.

Google+
A social network designed for business
Google+ makes it faster and easier to share and collaborate with your customers and team members.
Bring insights and answers together
Google+ has the perfect audience for every question or idea. Share your thoughts with a specific Community or share a question with your entire organization.
Filter content to find what's most relevant to you
Organize your social connections in a way that is unique to you. Filtering helps make sure you hear from those that inspire you and share with those you want to hear you.
Privacy controls keep your posts secure
With enhanced privacy controls, you can pick default settings for different groups, like one for your internal teammates, and another for external vendors.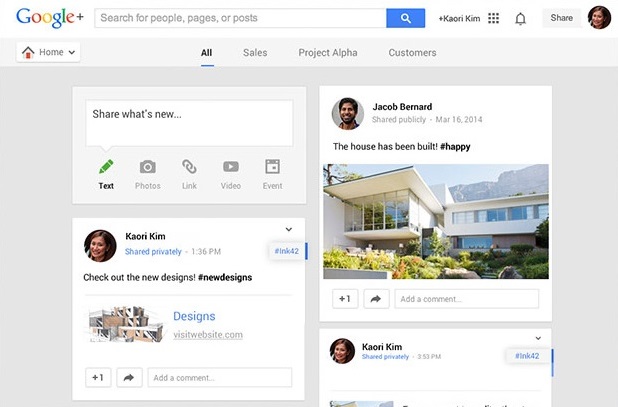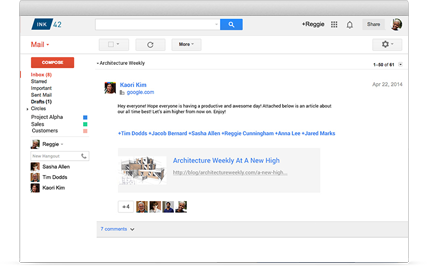 Integrated into your workflow
Google+ integrates perfectly with your email, calendar and docs to help you work smarter. You can filter your inbox using Circles or post a survey to get instant feedback.
Photos and videos bring conversations to life
Google+ is a great way to share the latest demo video, screenshot, product photo or any rich media that is relevant to your followers.
Share, connect, and interact on the go
The Google+ app for Android and iOS lets you share on the go. Share locations, photos you've snapped on a business trip and have them instantly saved and ready to share.

Drive
Store, sync and share files with ease
Keep all your work in one secure place with online file storage. Access your work whenever you need it, from your laptop, tablet or phone.
Get as much storage as you'll need
30GB of storage per user shared across Drive and Gmail means plenty of room for your data. If that's not enough, you can buy our unlimited storage plan for $10 per user per month. Accounts with fewer than 5 users get 1TB per user.
Sync files with your computer automatically
Sync all or some of your files to a designated folder on your computer. Any changes you make locally are automatically mirrored in Drive, and vice versa.
Easy-to-manage sharing controls
Keep files private, until you decide to share them. Grant permission to download, edit, comment or view, avoiding multiple versions and file merging.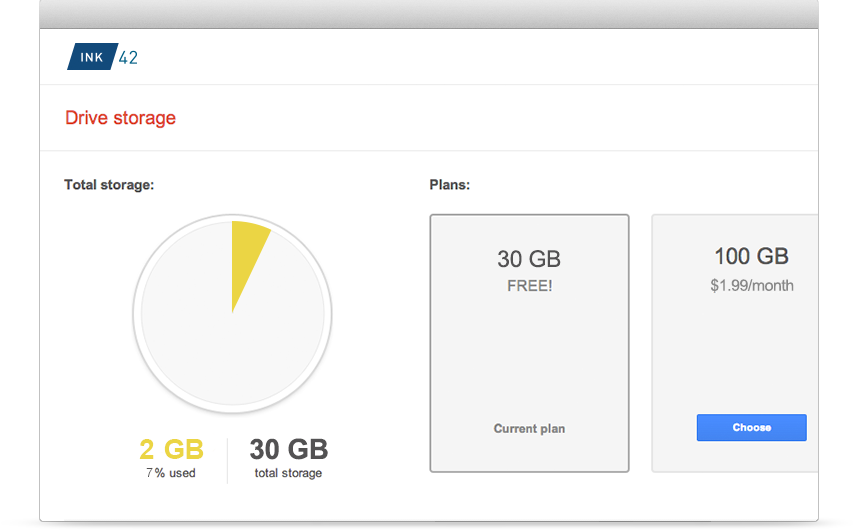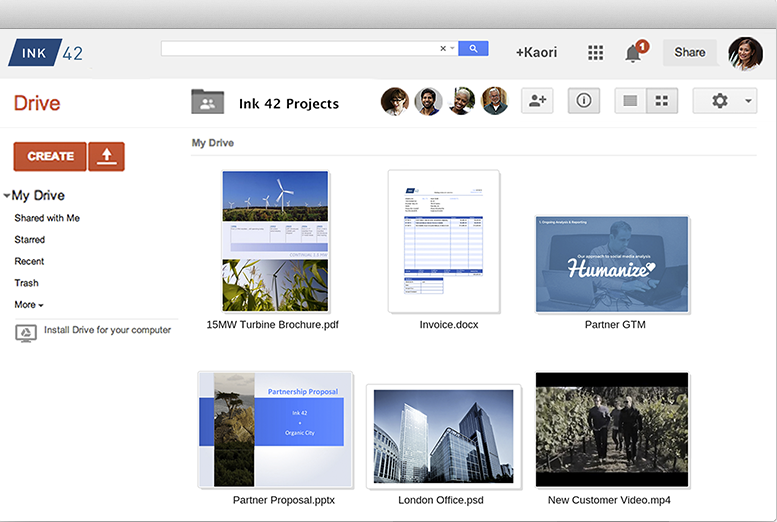 View files without buying extra software
Need to open a file but don't have the right software installed? View over 40 popular file formats with Drive, including videos, images, Microsoft Office documents, spreadsheets and PDFs.
Google-powered search
Stop the frantic hunt for crucial documents buried in folders. Simply enter some keywords to pull up the right file in seconds, even if it's an image or PDF of handwritten notes.
Third-party apps to extend Drive
Use hundreds of integrated apps including DocuSign for e-signatures, LucidCharts for mockups and Smartsheets for project management to get things done directly from Drive.

Docs
Word processing for teams
Create and edit text documents right in your browser—no dedicated software required. Multiple people can work at the same time, and every change is saved automatically.
Commenting, chat and real-time editing
Work in a single document with teammates or people outside your company. See edits as others type, communicate through built-in chat and ask questions through including comments.
Works with all popular file types
Import your documents to make them instantly editable, including Microsoft® Word and PDF files. Export your work in .docx, .pdf, .odt, .rtf, .txt or .html format.
Work across devices, with or without Internet
Create, edit and share docs from your iPhone, iPad or Android devices. Use Chrome for Mac or PC to work in Docs even when you're offline.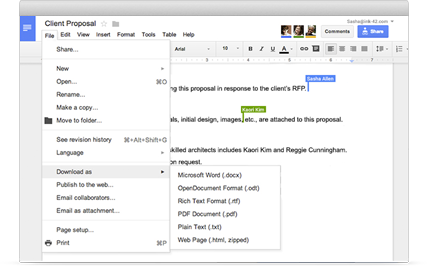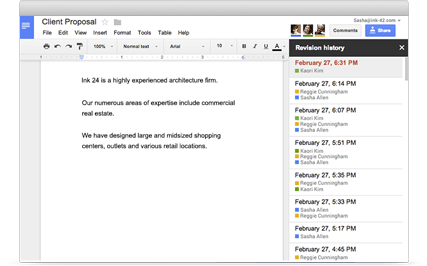 Unlimited revision history
Track changes made to your documents and undo anything you choose. Previous versions are kept indefinitely and they don't count toward your storage.
Easy-to-manage sharing controls
You decide who gets access to your documents and folders. Grant individuals or groups the right to edit, view or just add comments.
Do more with third party add-ons
Research topics, define words and insert citations right in Docs. With integrated add-ons, you can extend Docs' functionality with advanced formatting, mail merge and more.

Sheets
Advanced, fast, online spreadsheets
Create spreadsheets in your browser—no dedicated software needed. Handle everything from simple task lists to data analysis with charts, filters and pivot tables
Crunching data made simple
Perform calculations with powerful functions and formulas in spreadsheets. You can also add sophisticated charts, generate pivot table reports, add filters and more.
Keep working from any device
Create, edit and share spreadsheets from your phone or tablet, no matter where you happen to be. Work in Sheets even when you're offline.
Commenting, chat and real-time editing
Give individuals or groups permission to edit, view or add comments to spreadsheets. Work simultaneously and even see changes as people type. No files to send back and forth.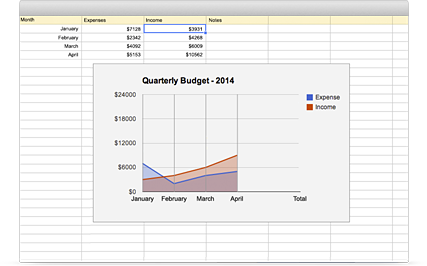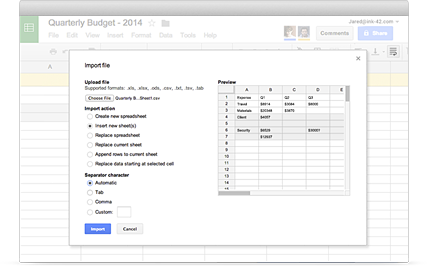 Works with all popular file types
Import and convert existing spreadsheets to make them instantly editable, including Microsoft Excel® files. Export Sheets in .xlsx, .csv, .html, .ods, .pdf or .txt form.
Easy to use forms integrated with spreadsheets
Create and embed a survey on your website or send around a questionnaire at work. The results of your form flow straight into Google Sheets for review and analysis.
Add-ons make Sheets even more powerful
Find tools created by third-party developers to add richer formatting, workflow rules, and more. You can even build your own custom add-ons for your domain.

Forms
Easy to create surveys and forms for everyone
Create custom forms for surveys and questionnaires at no extra cost. Gather everything in a spreadsheet and analyze data right in Google Sheets.
Create a form as easily as creating a document
Select from multiple question types, drag-and-drop to reorder questions and customize values as easily as pasting a list.
Send professional looking surveys to customers
Great looking surveys help you connect with customers to gain valuable insights. Add images, videos, and custom logic to give people who respond a great survey experience.
Share forms with an email, a link or a website
It's easy to share forms to specific people or to a broad audience by embeding forms on your website or sharing via Google+, Facebook or Twitter.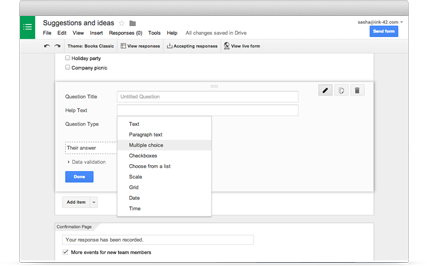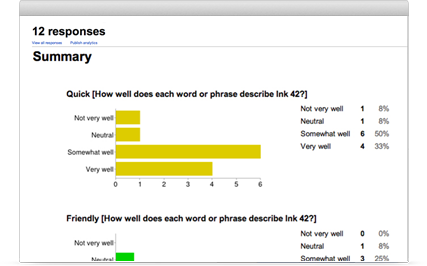 Analyze responses with automatic summaries
Watch responses appear in real time. You can also access the raw data and analyze it with Google Sheets or other software.
Make smarter forms
Data validation rules can make sure email addresses are properly formatted, dates are correct and that people get the right questions based on their previous answers.
Create questions and analyze results together
Real-time collaboration helps you create your form faster and let's you analyze results together without having to send around multiple versions of the file.

Slides
Beautiful presentations created together
Create and edit polished presentations in your browser—no software required. Multiple people can work at the same time so everyone always has the latest version.
Commenting, chat and real-time editing
Work on a single presentation online with your business partner, your whole team or external contacts. You control who gets permission to edit, view or just add comments.
Works across PCs, Macs, mobiles and tablets
View or even present your slides from your phone or tablet, so you always have the option to practice your presentation up until the last minute.
Unlimited revision history
Presentations get saved automatically online and versions are kept indefinitely without counting toward your Drive storage, so you can always track and undo revisions.
Easy-to-design slides
Start from scratch or expedite the process by choosing a template. You can enhance your presentations with videos, images, drawings and smooth transitions.
Simple sharing controls
Sharing is simple. You can assign permissions to control who views and edits your slides. You can also easily convert your Slides into the desired format to share with others.

Sites
Easy-to-create websites for your teams
Launch an intranet for your company, a project site for your team or a portal for customers with our site builder. All without writing a single line of code.
Project site creation
Create sites as simply as writing a doc through an intuitive editor. That means teams don't have to rely on IT specialists or web developers.
Google-powered search to find content across Sites
Use Google search to find the right information across all of your internal sites. Make it easy for sales, support or anyone at your company to find their answers fast.
Sharing controls keep data safe
Manage which individuals and groups have permission to view or edit your site. Choose to make it available to certain coworkers, your entire organization or anyone on the web.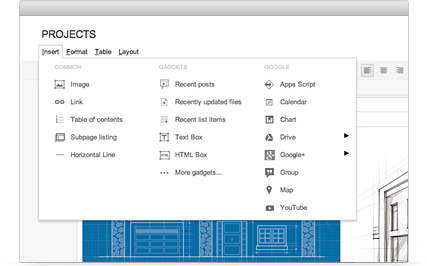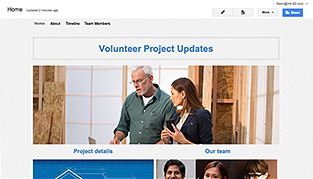 Bring together the right content in one place
Develop team sites with important content from projects, the latest sales materials or details about the company picnic.
Gadgets make adding content fast
Enhance your site by embedding calendars, maps, videos, spreadsheets, presentations and more. Now everyone can visit one central location to see the latest updates and content.

Admin
Manage G Suite for your organization
Easily add users, manage devices and configure security and settings so your data stays safe. Administration shouldn't need a manual.
Security and control
Centralized administration makes setup and management fast and easy. Add and remove users, set up groups, and add security options like 2-step verification and SSO.
Mobile device management
Keep data secure by enforcing BYOD security policies on employees' iOS and Android devices. Use device management to locate lost phones and lock or wipe devices remotely.
Hundreds of third-party apps
Use the G Suite Marketplace to find integrated solutions like CRM, project management, compliance and more – all available with a single sign-on.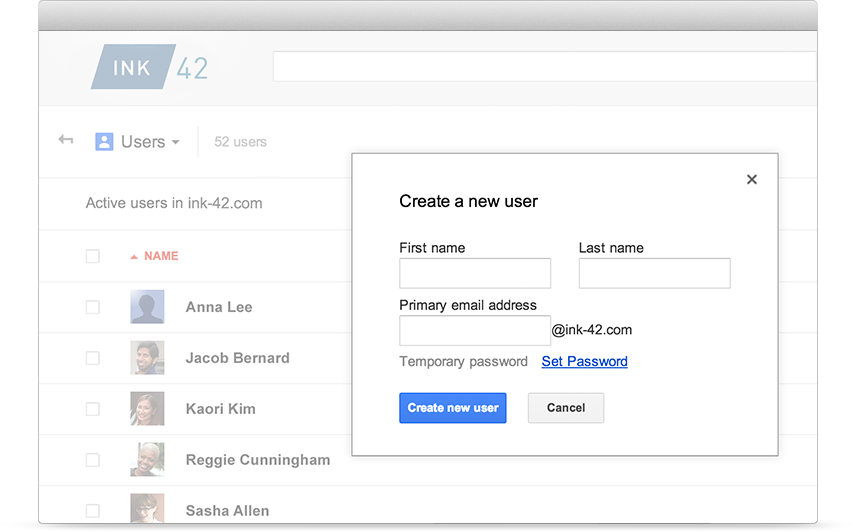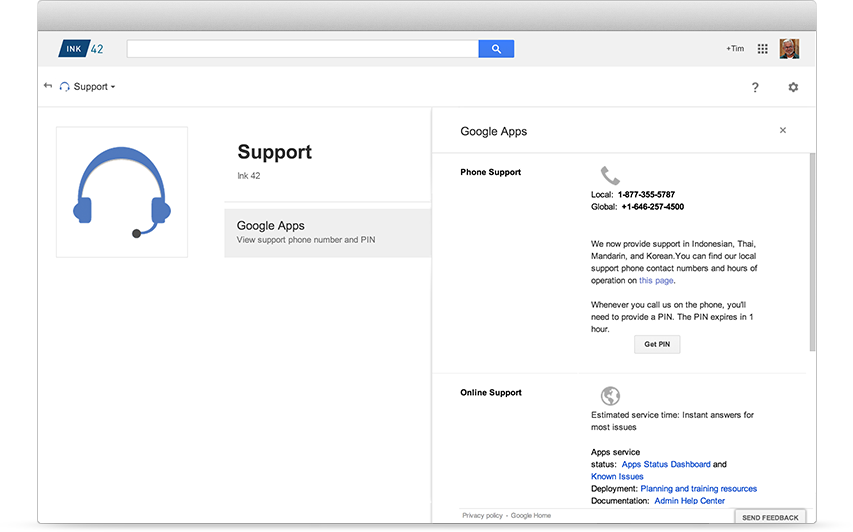 24/7 support and reliability
Call or email Google support 24/7. Combine our support team, with our world-class data center networks, and we've definitely got you covered.
Advanced insights and reporting
Monitor your company's use of G Suite and get alerts about suspicious activity. Audit capabilities give you a record of changes so you can pinpoint exactly what you need.
Mobile Admin app for fast problem solving
The Google Admin app for Android or iOS lets administrators manage their account on the go. Add users, reset passwords, view audit logs, contact support and more.

Vault
Add archiving and eDiscovery to G Suite
Manage, retain, search and export your organization's email and on-the-record chats. Vault costs an additional 4€/user/month.
An archive for emails and chats
Control how long your email messages and on-the-record chats are retained. Specify policies for your entire domain or based on organizational units, date ranges and specific terms.
Legal holds to preserve information
We hope it never happens, but your business may face a lawsuit someday. Vault keeps you prepared by letting you preserve users' Gmail data beyond standard retention periods.
Easy exporting to standard formats
Export messages retrieved through search to standard formats for additional review. You can export results for any licensed account.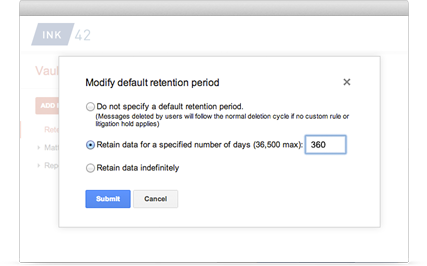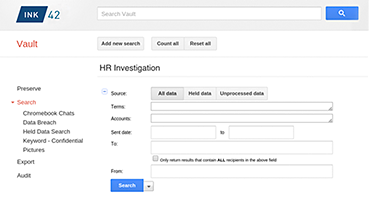 Google-powered search to find content quickly
Find and retrieve valuable information, even from closed accounts. It's a smart way to gather what your legal team needs and prevent data loss from employee turnover.
Audit reports to keep track of activity
Track user activity within Vault. Robust audit trails let you see searches, message views, exports and more.