AppCamp - IoT and Application Summer Camp Mamaia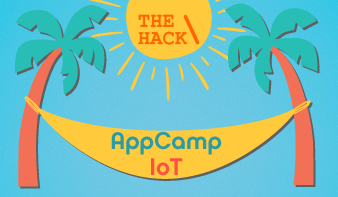 Best Western Savoy
Bulevardul Mamaia, Constanța
Our first AppCamp IoT experience in Mamaia
We were really excited to be a partner of AppCamp IoT 2015, an event powered by The Hack in partnership with GDG Bucharest, GDG Cluj and GDG Pitești, organized in Mamaia, September 3-6, 2015.
Our colleague Bogdan Nourescu, Google Cloud Platform Authorized trainer and GDG Bucharest member has been a mentor for the attendees, and delivered also a presentation about Google Cloud Platform & IoT (Internet of Things), in other words how can you use Google Cloud technologies to build IoT apps.
Let's rewind the movie reel of this event. The cast: 50 people passionate about technology from 6 cities willing to learn and develop. From Day 1 they stir 13 ideas for IoT prototypes, they vote and build the teams, and start working on the projects with the support of their mentors, using the available hardware (e.g. Edison si Galileo, Leap Motion and RainMachine). For the 3 next days, in and between sunbathing, coding and developing their prototypes, laughter and good time.
The AppCamp IoT participants, explore also new topics shared by the mentors: Victor Gradinescu and Catalin Morosan on IoT Applications Architectures for Android, Marius Mailat on Android Connected, real life Android Apps, Bogdan Nourescu on Google Cloud Platform & IoT, Sebastian Presecan on Mobile Cloud, Quick and dirty UX prototyping & User testing by Tudor Juravlea, Mihaela Stroe on Effective Communication and Business presentation skills, and many others, altogether with plenty hands-on activities.
Day 4 brings 4 winners of AppCamp IoT (Best IoT App: Șoferu' , Fun IoT App: I AM WET, Useful IoT App: I AM WET, Hard Work IoT App: Parcare Liberă).
To be continued …